Remember Me As Sunshine, Love Notes From My Dog, is a pet sympathy book to honor and memorialize a beloved dog. A collection of dog poems I've written channeling our Viszla, Boris, are matched to the unique personality of every treasured dog photographed. Each spread features black and white dog portraits, in colorful pages with still lifes, made from flowers, rocks and butterflies that you would find on a walk with your dog. A thoughtful pet gift for anyone who has ever loved a dog. - Jacqueline Lemieux-Bokor
As seen on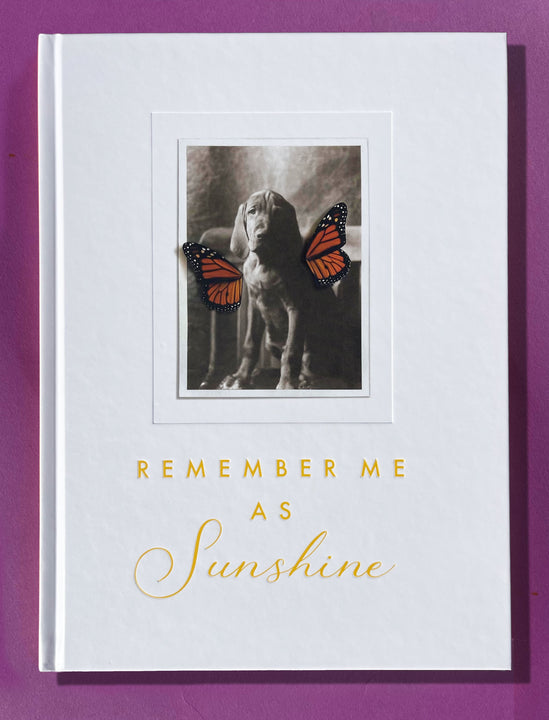 As seen on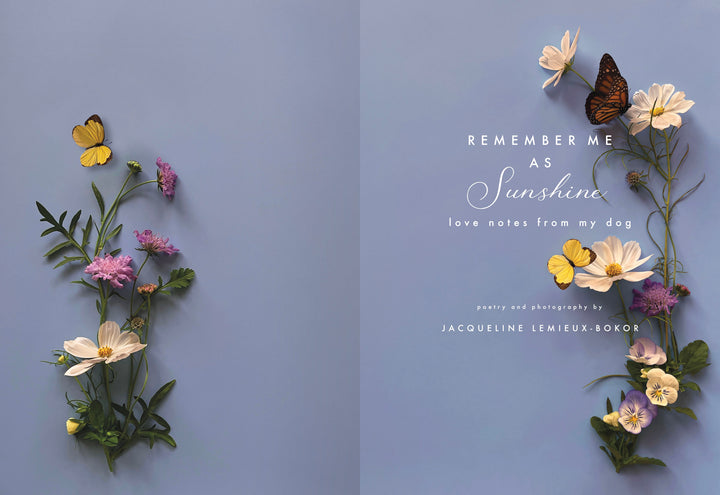 As seen on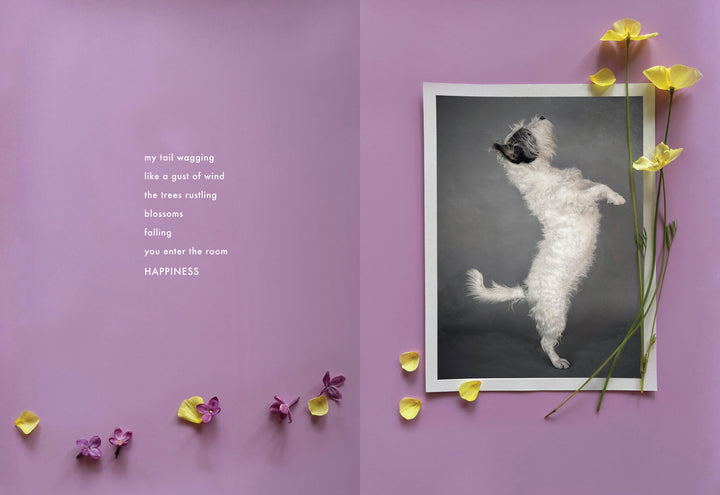 As seen on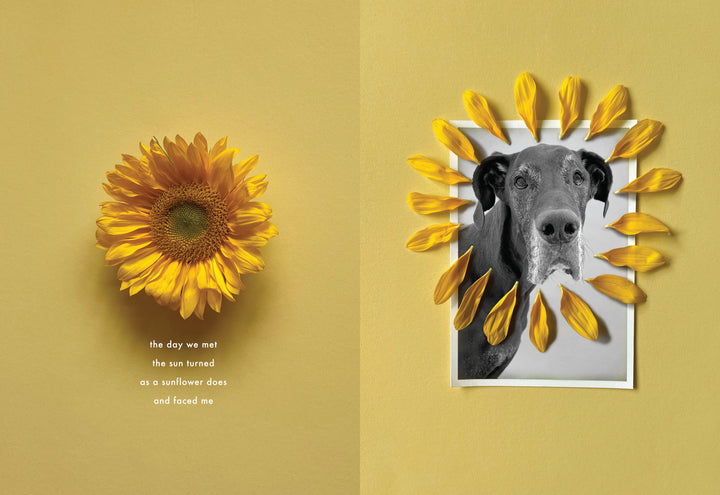 As seen on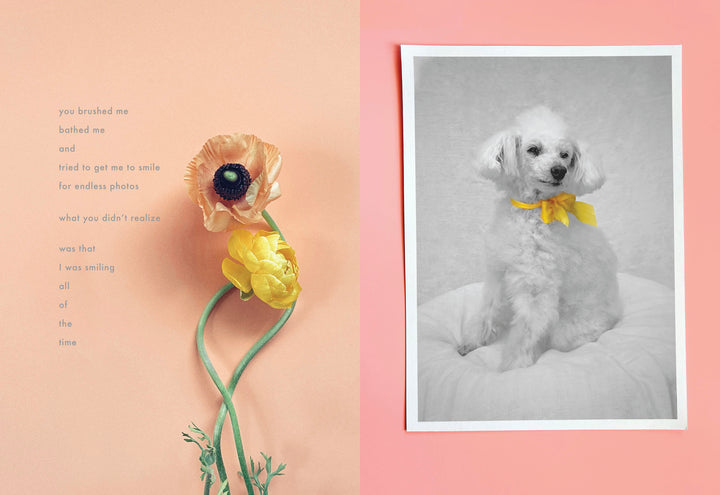 As seen on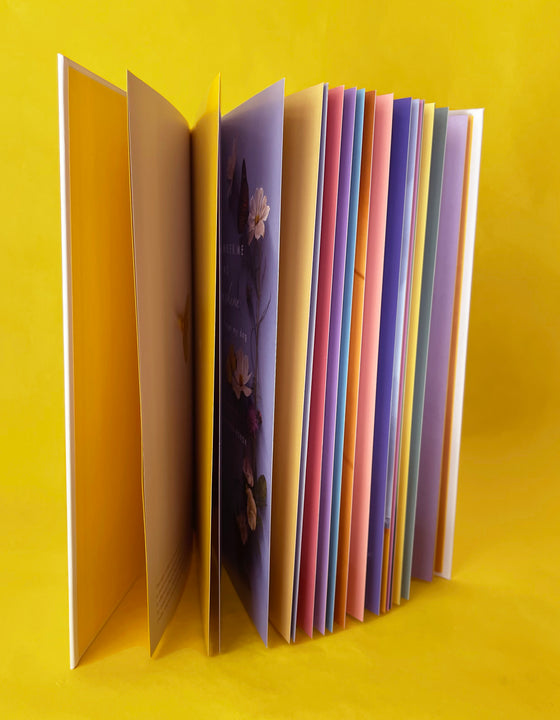 As seen on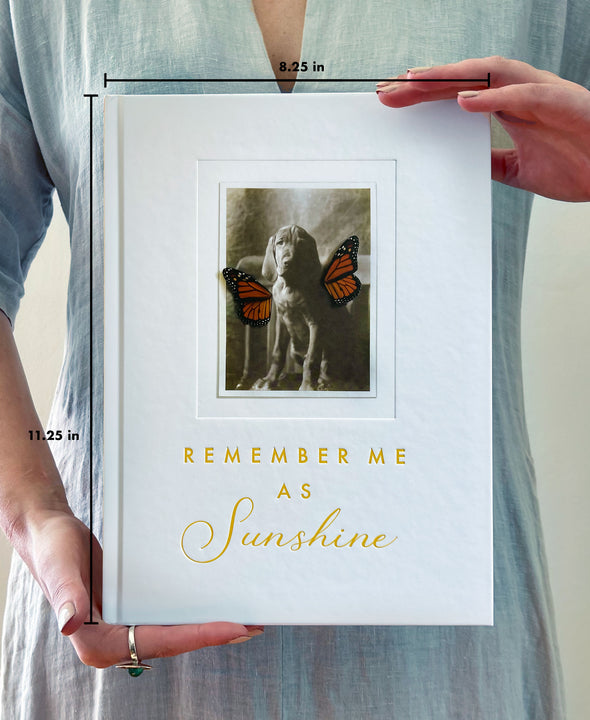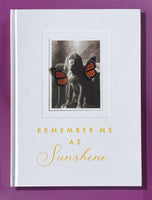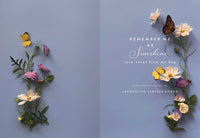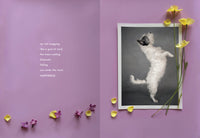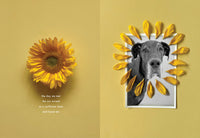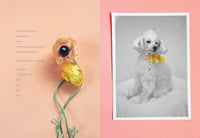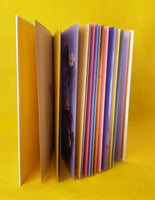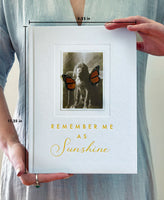 Remember Me As Sunshine is a dog sympathy book offering comfort and beauty to celebrate the life of your beloved dog.
To personalize your book please use a ballpoint pen or pencil
What people are saying:

Beautiful gift
What a lovely and uplifting celebration of such important members of the family. The photography and attention to detail are remarkable! It's a thoughtful gift, and the pages are filled with so much beauty and joy. I love that there are places to add your own memories.

– Mary on Jan 31, 2023

Amazingly beautiful
This book is so rewarding and heartwarming, I cannot stop reading it. The photos and poems are so meaningful, anyone who has ever loved a pet will certainly understand and be touched by it.
I highly recommend it for yourself as well as for a gift,
it is amazing.

– Annette on Feb 01, 2023

Fur You
This book is an absolute gem and a perfect gift for anyone who has ever sent their dog across the Rainbow Bridge. The poems are so beautifully written and the photos capture each beautiful dog's unique soulful personality. A perfect homage to the author's dog Boris.

– Lynn on Feb 02, 2023
Additional Reviews
Comforting
This keepsake book is an uplifting and beautiful reflection of the time that you have spent with your beloved dog. The colorful yet soothing palette is a modern take on the rainbow bridge, while focusing on the timeless quality of the black and white dog portraits.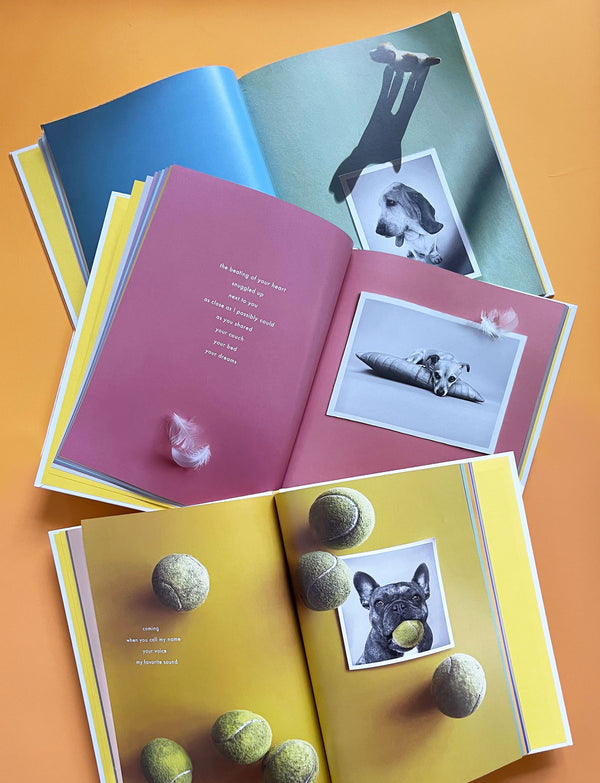 Portraits
Every soulful dog photographed, has a unique personality connected to one of the poems. They are shelter dogs, pure breeds and a mix of every wonderful, imaginable kind of dog. Most are senior dogs, all are kind, loyal, loving and deeply loved.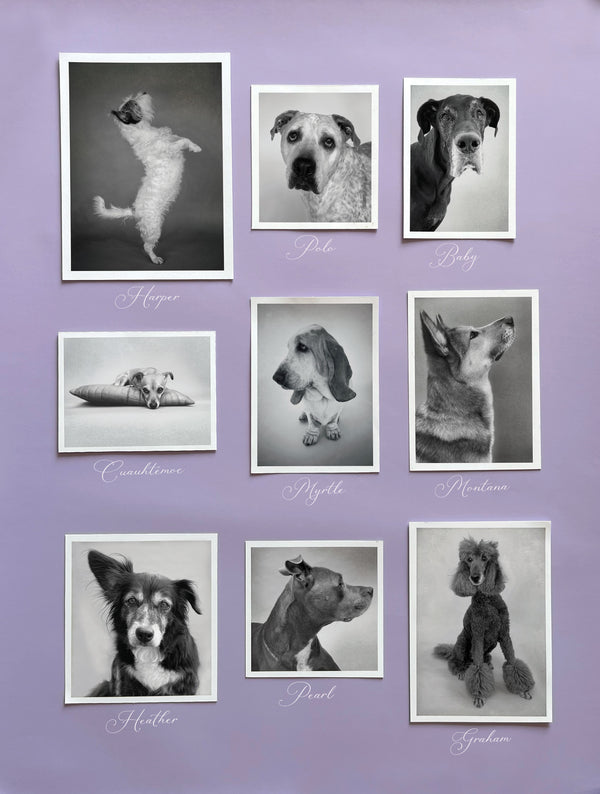 Poetry
Along with each dog's portrait and still life is a poem. The poems are written as sentiments from your dog. Many are tributes to a moment, a ritual or an everyday occurrence that we have all experienced alongside our faithful friends.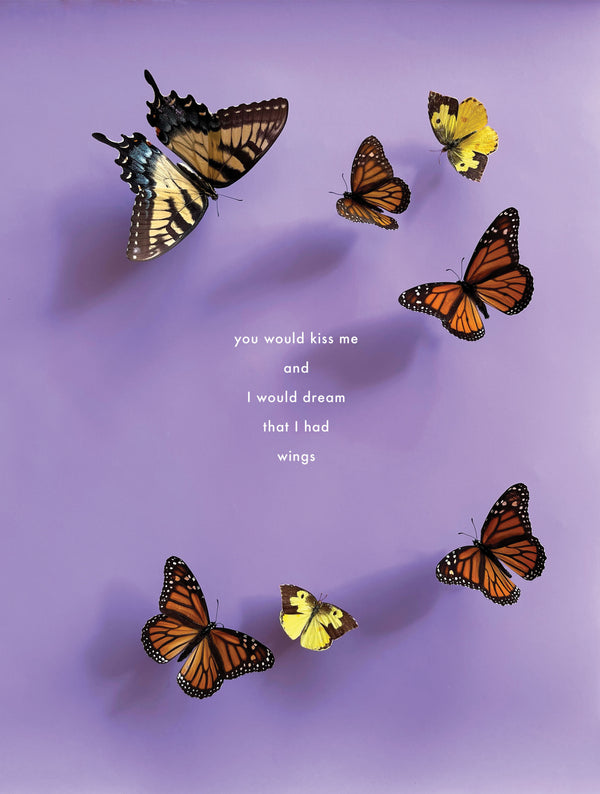 Personalize
Among the 68 pages of portraits and poetry, there are 10 pages to
personalize. One spread is designed to add your dog's name and photograph (if desired), using double sided tape or glue dots, along with an additional 8 pages to hand write memories. A ballpoint pen or pencil is recommended for writing.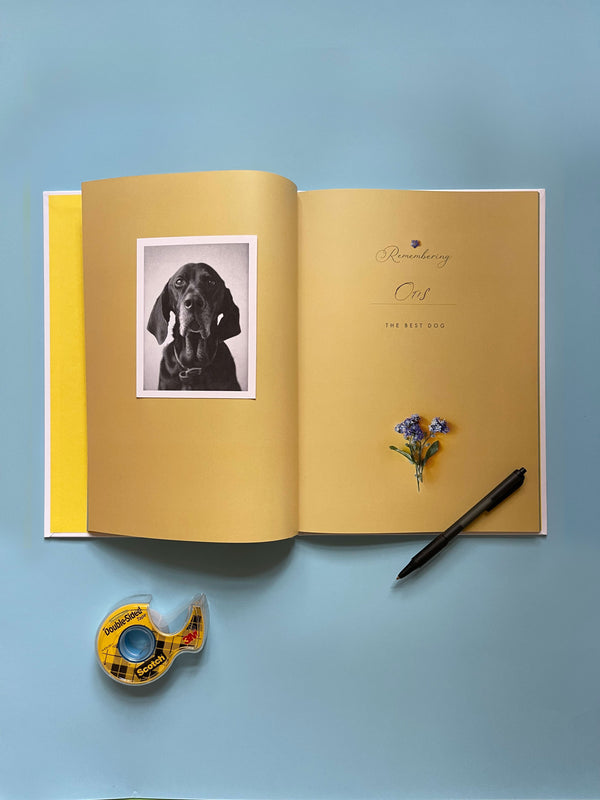 Memories
Within the 68 pages, there are 8 ruled, pages to write memories, reflecting and celebrating your time with your dog. A ballpoint pen or pencil is recommended when writing in the book.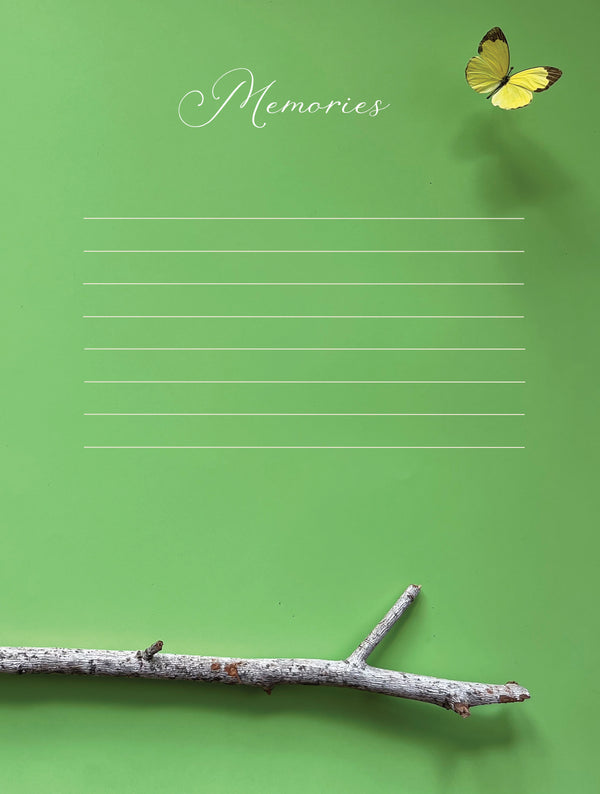 Meaningful
The love of a dog is so personal that it is often hard to know how to comfort someone when there is a loss. I created this book with the desire that it would feel worthy of the love that you share with your dog.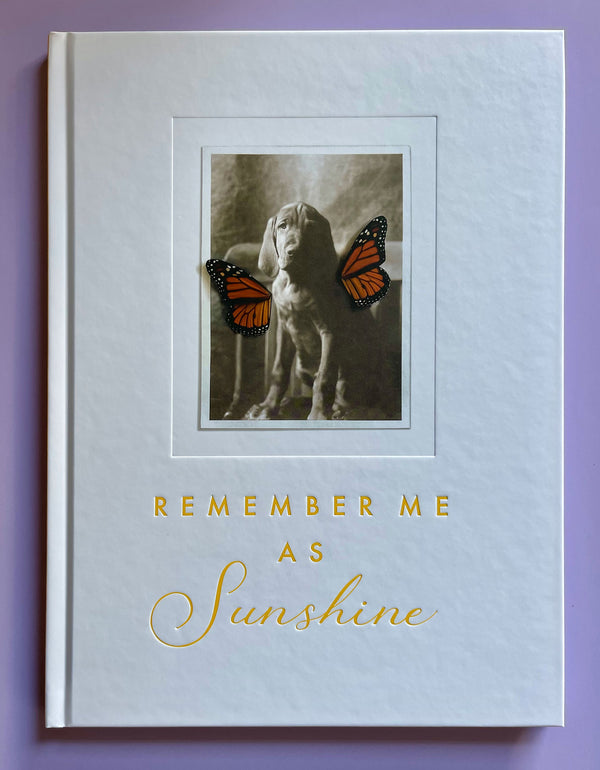 It started with a dog.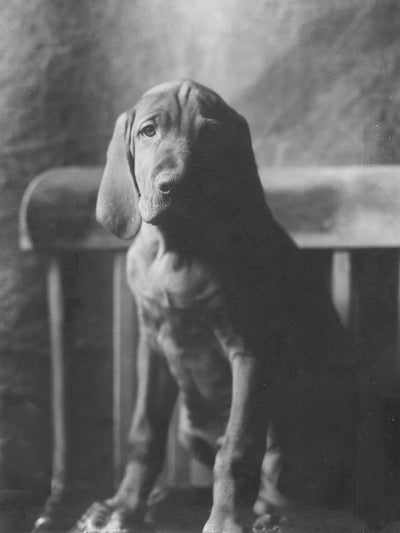 1991
Boris was meant to be our dog. It felt like fate when he entered into our lives and we could never have imagined that we would lose him so soon.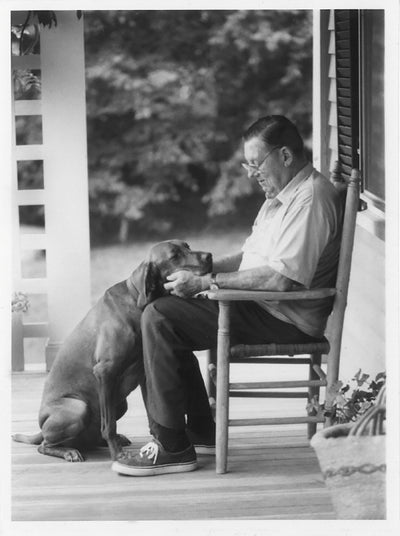 1999
On February 4th, 1999. Boris woke up our family in the middle of the night as our house was in flames. We barely escaped but tragically, Boris did not. He is our hero and we are alive today because of him.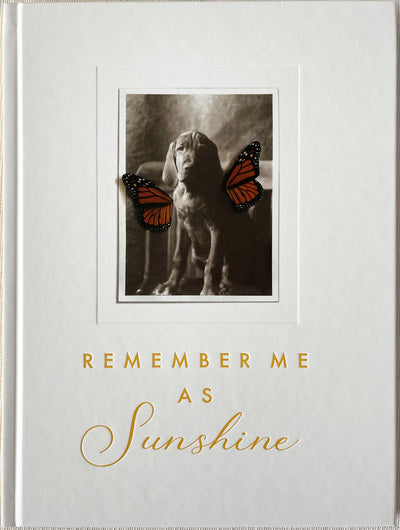 2023
Remember Me As Sunshine, love notes from my dog, was created to honor Boris along with every dog who has touched our lives and made this world a nicer place. With this book, we honor, celebrate and remember all of our beloved pets.
Shipping and Returns
For local pickups or delivery within the local San Diego, CA area, please email info@remembermeassunshine.com or call / text 619-363-1922. For non-local purchases, shipping options are outlined at check out. If for any reason you are not satisfied with your purchase, email info@remembermeassunshine.com and we will respond to your request and issue a replacement or refund.
Wholesale
For wholesale inquiries please email info@remembermeassunshine.com